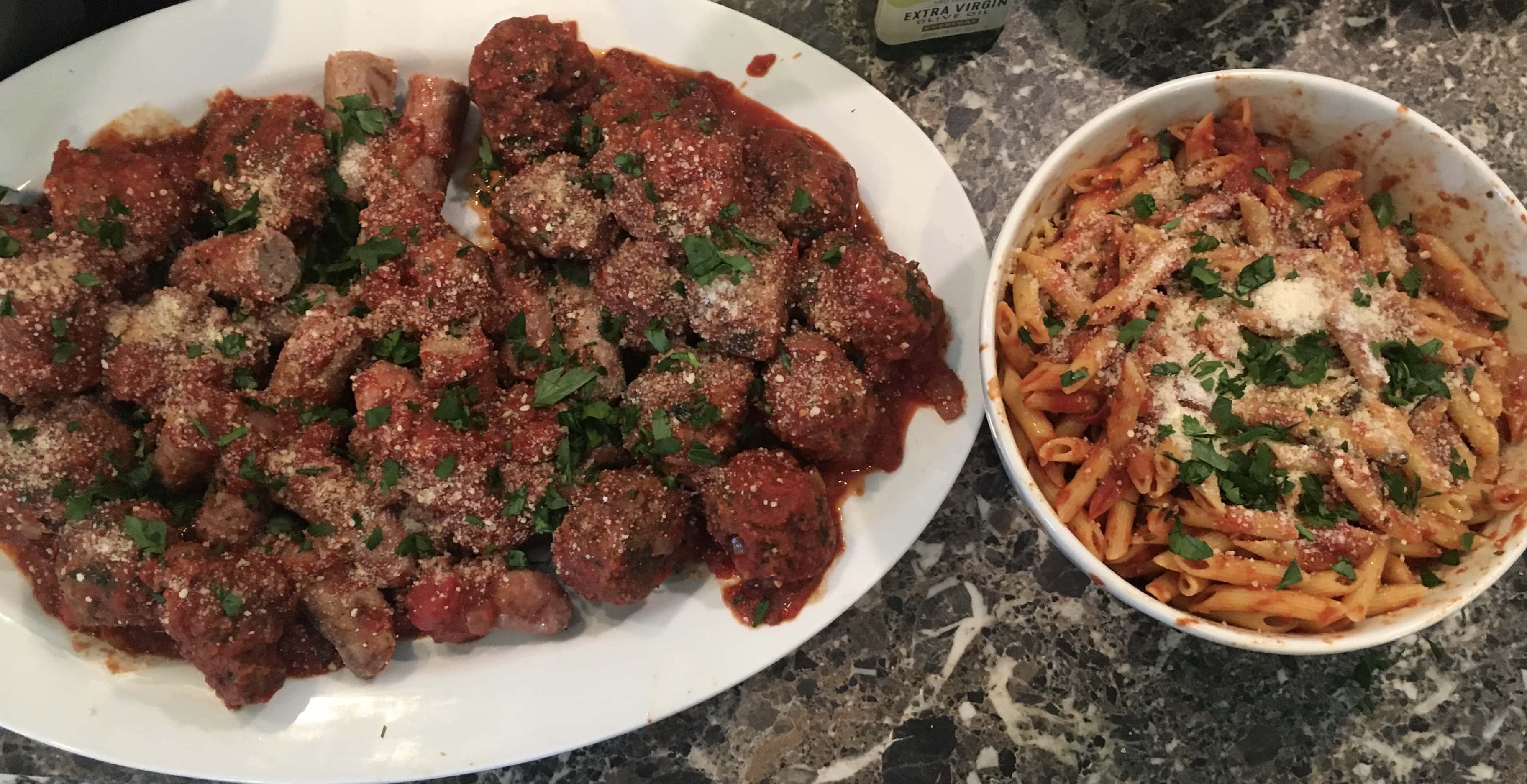 This will be a long and fussy post; the more simple the dish the more specific one needs to be. You have been warned.
Since the perfect meatballs and tomato sauce can be time consuming, I have broken this down. If you're on it, you can do both in under an hour easy.
If you want a 10 minute sauce, do steps only in bold. If you want my full on ultimate tomato sauce, do all of the steps.
Tomato Sauce: Total time, up to 35 minutes
Bulb of Garlic
1 medium sized yellow of white onion (looking for 1-1.5 cups of onion)
1 pint cherry/grape tomatoes
½ lb pancetta
2 cans 28 oz crushed tomato (look for San marzano tomatoes)
1-2 cups white wine
Fussy optional ingredients that I use: 4-6 whole Basil leaves, 1 parmesan rind, pinch of red pepper flakes
T-0 Toss the cherry tomatoes in salt (1 teaspoon) and olive oil (2 tablespoons). Roast the cherry tomatoes, whole. 400 degree oven, 9×9 square baking dish, 10ish minutes or until they pop.
T-0 Heat dutch oven over medium heat for a few minutes. Spray with cooking spray, add pancetta. Render for ~10 minutes (purpose is to sweat out some fat and make bits crispy, go slow).
T-5 Dice onion fine, Crush and mince garlic
T-10 When pancetta is rendered, remove bits from dutch oven. Remove all fat but a few tablespoons.
T-10 Add onion to hot pancetta fat (or olive oil) with a pinch of salt and a few grinds of pepper. Sauté for 4-5 minutes.
T-15 Add in garlic. Amount is up to you; I do 4 cloves, I would recommend 2 to start. Add to onion, stir for one minute.
T-15 Add 1 cup of wine to roasted tomato; deglaze the roasting pan. Add pan contents to the garlic and onion.
T-15 Add in crushed tomato to dutch oven and another ~cup of wine (and the fussy optionals, no chopping required)
T-20 Simmer for 5-20 minutes (low heat, just want to see bubbles break every few seconds, sauce will burn). Sauce gets better as it cooks, so the more time you have, the better. Make sure you break up the cherry tomatoes if they don't on their own. Stir often.
T-35 Remove optionals (except for pepper flake), taste sauce: If sauce is too sweet (unlikely, with the wine), add in a tablespoon of red wine vinegar until sauce is to your liking If sauce is acidic, add in 1/8 teaspoon baking soda until sauce is to your liking (should only need 1 dose) If sauce doesn't take like anything (very unlikely), add in 1 teaspoon of salt
Beef Meatballs (total time, ~45 minutes):
3 lbs ground beef (I like chuck, 80-85% fat)
1 cup, parmesan cheese
1/2 cup, chopped flat leaf parsley (don't use curly or cilantro)
2 eggs
1-2 cups bread crumbs (please, please don't use "Italian bread crumbs". Theyre just salt and preservative. Use panko, or better yet leave out ~3-4 slices of white bread in the morning, put them in a Ziploc and let the kids go nuts on it)
2 cloves finely minced garlic
T-0 Take off all of your rings. Preheat oven to 400 deg.
T-0 Combine meat, cheese, eggs, parsley, 1 cup bread crumb, garlic, heavy pinch of salt and pepper. Lightly combine.
Mixture should be wet but formable. If you ball one and it cant hold its shape, add in ½ cup bread crumbs and lightly combine in until it can
If mixture is dry (unlikely) add in an egg yolk.
T-5 Lay down foil on 4 cookie sheets; spray foil with cooking spray
T-5 Make meatballs. I use an ice cream scoop, and I'll weigh mine to make sure each is ~3 oz (yes, I really do). Ball and put on the cookie sheets. Make sure meatballs have over an inch apart
T-10 Spray tops of meatballs with cooking spray lightly.
T-10 Bake for 10 minutes, then rotate pans, gently turn meatballs
T-20 Bake for another ~10-15 minutes (check on them after 5 minutes; don't be afraid to cut one open, you should see zero pink and they should be a little crusty)
When meatballs are done, remove from oven. Some people like to put them into the sauce to finish (but I don't, it throws off the seasoning of the sauce to me).
Serve sauce and meatballs over pasta (bow ties or corkscrews personal favorites). Top with the rendered pancetta, Parmesan, and parsley if you like.