This beef stew recipe is actually inspired by good guy Justin Warner's pot roast recipe (again, RIP Chefshock). Don't fuss over this one too much; beef stew and pot roast are supposed to be comforting after all. I recognize the unconventional ingredients like ranch mix and pepperoncini. You'll just have to trust me (as I eat my 3rd bowl in 24 hours…)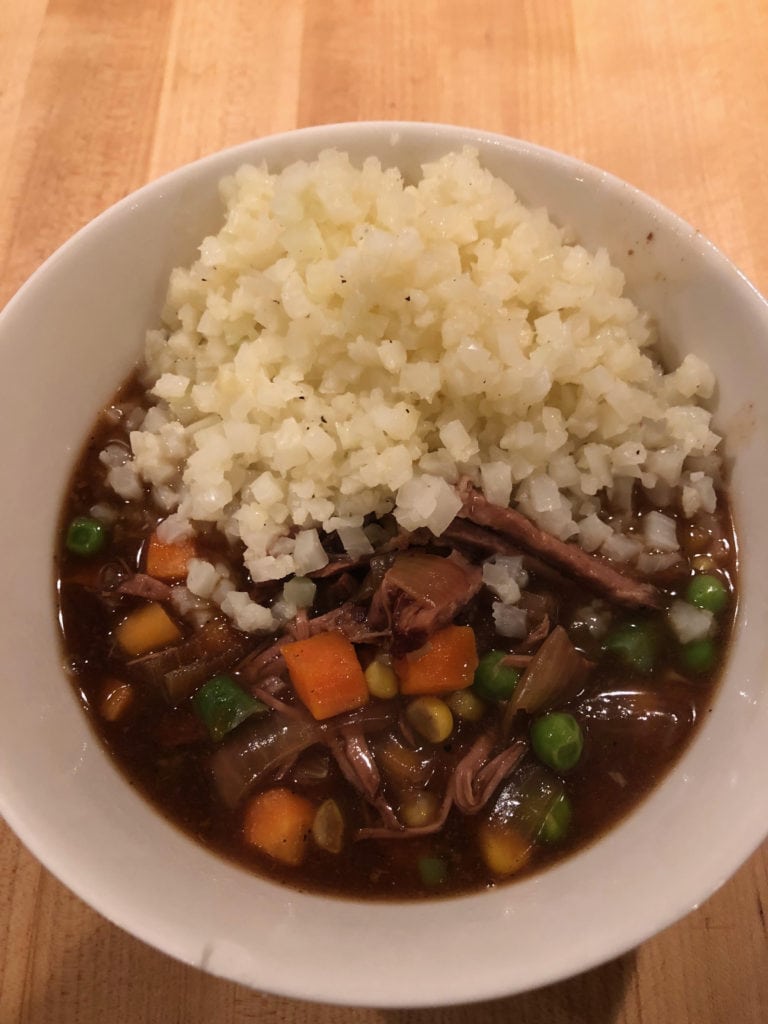 Shop it:
2.5-3 lbs chuck roast
1 envelope au jus mix*
1 envelope ranch powder*
4 pepperoncini (plus 1/4 cup brine)
1 large onion
4 cups unsalted beef stock**
1 bay leaf
4 tablespoons corn starch
1 lb mixed vegetables
Make it:
Cut beef into 8-10 chunks. Sear off in hot pan. Add to 6 qt slow cooker on high.
Slice onion thinly. Add to slow cooker along with au jus mix, ranch mix, pepperoncini, brine, beef stock, bay leaf, and heavy grinds of pepper.
Cook on high for 4 hours. 15 minutes before serving, add in corn starch (mixed with enough water to loosen) and mixed vegetables.
Serve with mashed potatoes, rice, or riced cauliflower (as shown).
*I know, prepackaged mixes! Look, I had doubts too, but it totally works. If you don't want to use either, sub in beef base for the au jus and 2 tablespoons garlic powder/dill/thyme for the ranch.
** Unsalted really important here. The flavor packets are pure salt, and the soup wouldn't work with even low sodium stock.