I'm not sure what the first thing I learned how to cook was, but this is probably top three. I'm not sure it gets much more "hug-in-a-bowl" than this. The version below has a few healthier swapouts that lower the carbs and fat and boost the protein, without sacrificing any of the comfort (in 30 minutes too). This weeknight version is a pared down rendition of my Ultimate Tomato Sauce. For the wine, if you don't want to open an entire bottle, some brands sell individual serving bottles of wine, which are perfect to keep around for cooking.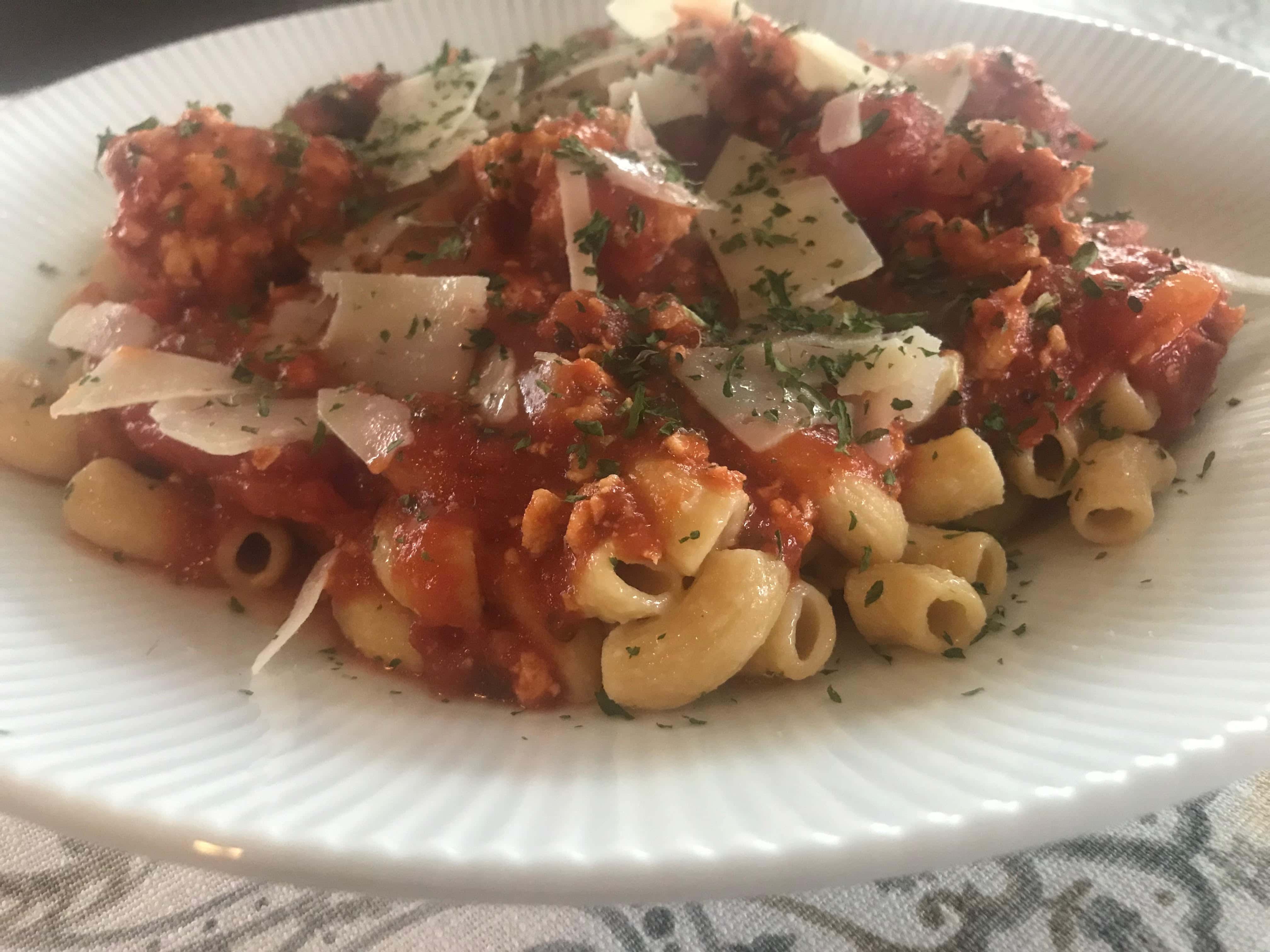 Shop it:
1 lb, penne chickpea/lentil pasta*
1.5 lb, ground turkey**
1 28 oz can crushed San Marzano Tomatoes
4 cloves garlic
1 onion
1 cup white wine (Sauvignon Blanc, Pinot Grigio)
Red pepper flake
Dried Basil
Dried Oregano
Dried Parsley
Olive oil
Parmesan cheese for garnish
Make it:
T+0: Heat 2 tablespoons of oil in dutch oven (I swear by this one) over medium-high heat. Add in ground turkey, season with salt and pepper, and brown, ~8-10 minutes
T+5: Bring a large pot of salted water to boil
T+5: Dice onion and mince garlic
T+10: When turkey has browned, remove from dutch oven. Add in onion and sauté for 3-4 minutes
T+10: Add in garlic to dutch oven. Stir for 1 minute.
T+15: Deglaze dutch oven with wine.
T+15: Add tomatoes, turkey, and 1 teaspoon each basil/oregano/parsley/red pepper to dutch oven. Season sauce with salt and pepper. Bring to simmer for 10 minutes.
T+15: Drop pasta into boiling water; cook for 8-10 minutes or per package
T+25: Drain pasta once al dente, put back in pot with 2 tablespoons oil to prevent sticking
T+25: Check seasoning on sauce*** and serve, garnished with parmesan cheese.
*Unpopular opinion alert: For a dish like this, a short pasta like penne or shells even is ideal. Spaghetti has its place; just not with Bolognese.
**You can find prepackaged ground turkey just about anywhere, and it's pretty good, but some brands are a bit fatty and have additives. I like to hit up the butcher counter, where they typically have either ground turkey, or turkey breast that they will grid for you. I prefer this, because then I know exactly what I'm getting.
*** If sauce is too sweet (unlikely, with the wine), add in a tablespoon of red wine vinegar until sauce is to your liking. If sauce is acidic, add in 1/8 teaspoon baking soda until sauce is to your liking. If sauce doesn't take like anything (very unlikely), add in 1 teaspoon of salt. If sauce is black and bitter, order pizza.
Please follow and like us: