Beef roast braised in the best tomato sauce you've ever had, great. Barley started like a risotto using stout beer, great. The two together? Unforgettable.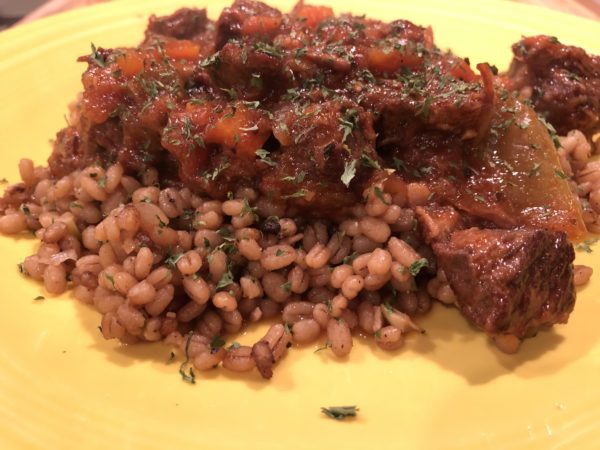 | | |
| --- | --- |
| | |
Cube beef roast into 1" chunks. Place cast iron pan on high heat and sear (using your favorite saute oil and a pinch of salt) until very brown. Set aside into slow cooker set on high.

Dice onion (setting aside half), celery, and carrot. Sweat in same cast iron pan with a pinch of salt and heavy grind of pepper for 4-5 minutes. Add in garlic (crushed) and cook for another minute, then add in the tomatoes and 2 cups of beef stock. Pour everything into slow cooker, along with the bay leaf and Worcestershire sauce and cook on high for 3-4 hours, or until tender.

~One hour before dinner, preheat oven to 375 deg F. In oven safe dutch oven, sweat the remaining onion in butter, 4-5 minutes. Add in 2 cups of barley (along with a heavy pinch of salt) and toast for another 2 minutes. Add in beer, and remaining 2 cups of stock. Cover and bake for 50-60 minutes, or until barley is tender. Gently fluff with a fork and serve immediately, topped with braised beef.