I invented this recipe this evening on a whim, because gnocchi sounded amazing. I am extremely proud of how it turned out, though it did take me a few tries to get it right. Be patient with this one, as its more about the technique than parts list, but in the end, you'll be rewarded with: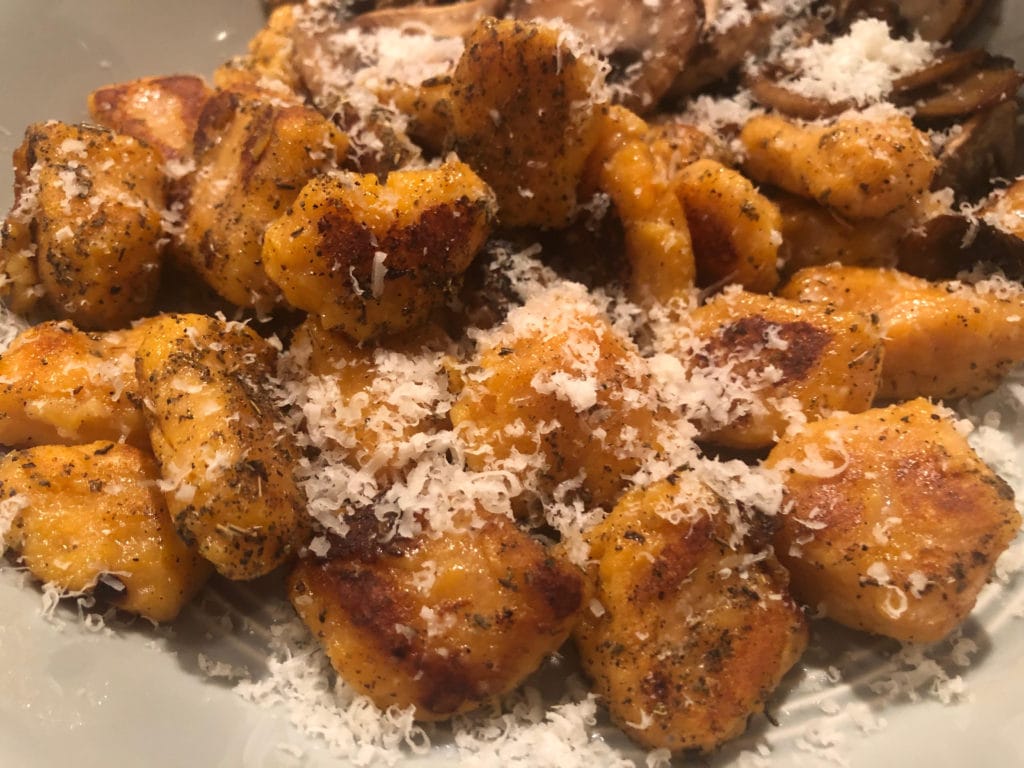 Shop it:
5 sweet potatoes, or ~5 cups cooked sweet potatoes*
~3 cups flour
1 egg
1/2 cup Parmesan cheese, plus garnish
3 tablespoons fresh sage
1 teaspoon nutmeg
Make it:
Preheat your oven to 425 deg F, poke fork holes in your sweet potatoes, and roast for about 50 minutes. No oil or seasoning necessary.
Once baked and cooled, harvest 5 cups from the sweet potatoes.
Bring salted water to a boil in your favorite pasta pot.
Using a ricer or hand mixer, rice or very lightly beat the potatoes. Add in the egg, cheese, nutmeg, 1 teaspoon of salt, a heavy grind of pepper, and 1 tablespoon of the sage.
Gently fold in 2 cups of the flour. Grab a small spoonful and test in the boiling water; if it falls apart, add in another 1/2 cup of flour and test again. If it stays together and floats to the top, proceed.**
Heavily flour a work surface. Form out dough into a 1/2″ thick shape on the board, like you are rolling out cookie dough.
Flour top of gnocchi. Cut with a pizza cutter into 1/2″ squares, flouring in between each pass.***
Boil gnocchi in 4 batches for 2-3 minutes, or until they float. Remove and set aside one cooked.
Once all gnocchi is boiled, heat cast iron skillet on high for 2 minutes.
Add in a bit of butter or olive oil to the pan. Fry the gnocchi in two batches for 3-4 minutes, or until browned on both sides, topping with the fresh sage.
Serve immediately, garnished with sage and Parmesan cheese.
*If you go frozen, roast it for ~20 minutes in a 425 deg oven to dry it out.
** Due to variability in sweet potatoes, its hard to predict the exact amount of flour needed. Test in the water to ensure success. Too much flour will make tough gnocchi.
***The dough will be sticky. That's okay. The bench flour will be your friend.