I'll admit, this is a Cheat Day breakfast, but, boy, if you're going to go for it, this is the dish you want. I do have bad news; the B&G you know and love is, wrong.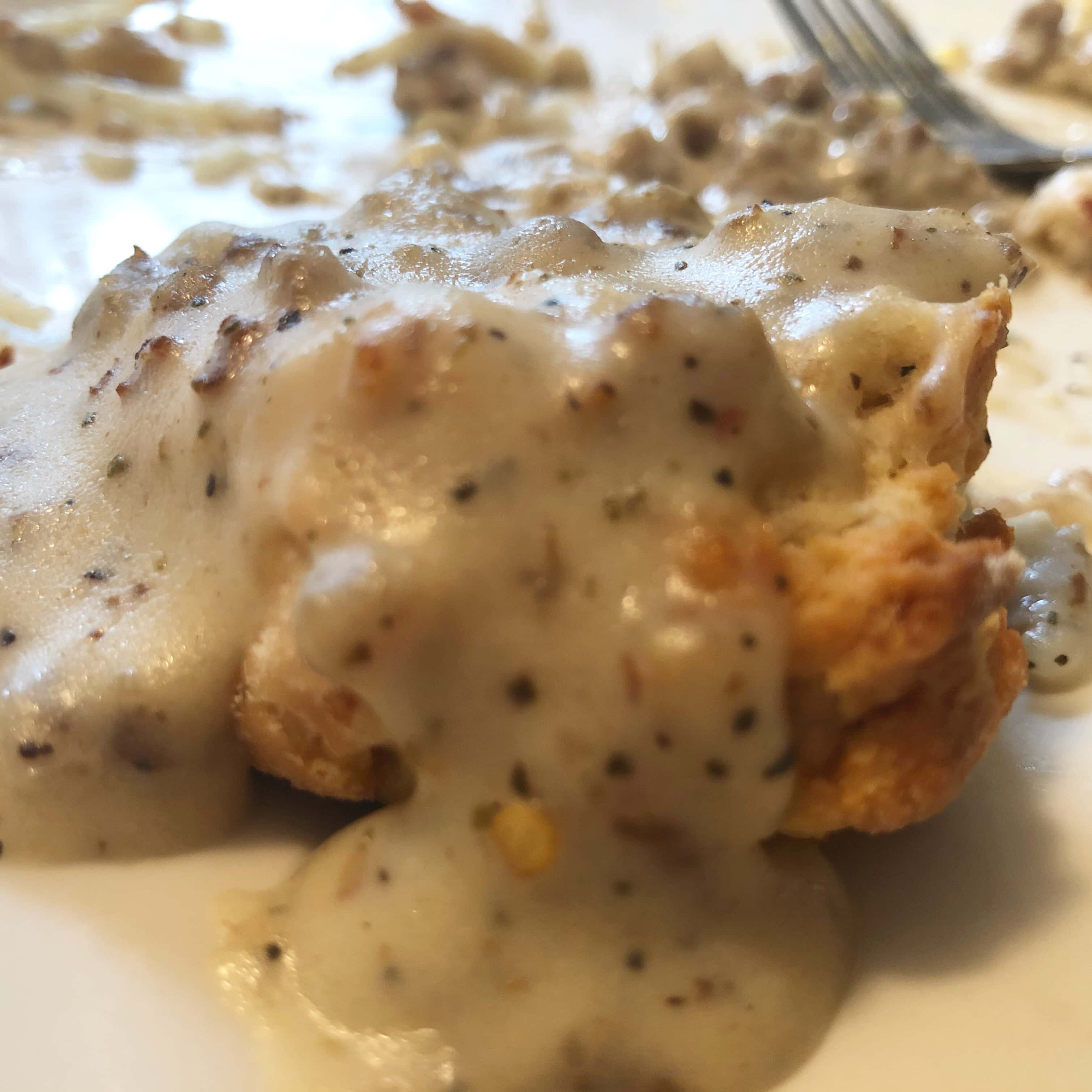 B&G typically is a sawmill (milk based) sausage gravy over southern style biscuits. The gravy I have no quarrel with, but rather those fluffy, southern biscuits. A true southern style biscuit is flaky, tender, and soft… which means after 5 minutes, they turn into a pasty mush. Those biscuits are too delicate for heavy milk based gravy. What is needed is a biscuit that is still buttery, but has enough texture and density to hold up to all that wonderful gravy; drop biscuits.
Drop Biscuits:
This recipe is straight from the original version of the Joy of Cooking, and it needs no modernization.
Shop it:
1 3/4 cups flour
1/2 teaspoon salt
3 teaspoons baking powder
6 tablespoons cold butter
1 cup milk
Make it:
Preheat oven to 450 degrees.
Combine flour, salt, and baking powder in a bowl and mix well.
Cut butter into pieces and add to flour mixture. Using a pastry cutter, a fork or your hands cut the butter into the flour to form a coarse meal.
Add milk and stir until dough forms.
Drop from a spoon (or your hands) onto an ungreased baking sheet (you'll get about 8).
Bake for about 12-15 minutes or until lightly golden.
Sawmill Gravy
Shop it:
1 lb, pork sausage*
2 tablespoons butter
4 tablespoons AP flour
4 cups milk
1 tablespoon Worcestershire Sauce
2 teaspoons rubbed sage
1 pinch red pepper flake
Make it:
Heat dutch oven or large saucepan over medium high heat; add butter to melt. Cook sausage, 7-8 minutes or until brown.
Dust on flour, stir to combine. Cook out flour for 1-2 minutes.
Whisk in milk, being sure to scrape pan for any sausage bits.
Bring to simmer; add in Worcestershire Sauce, sage, and red pepper, along with a heavy grind of black pepper and pinch of salt. Simmer for 5-10 minutes, serve immediately.**
*90% of the flavor from this gravy comes from the sausage; buy the good stuff here.
**I like my gravy thick, so I'll likely add in a tablespoon of cornstarch loosened with some milk.