In collaboration with Racconto foods, may I present my newest cookbook: "Comfort Foods"! In this cookbook, you'll find dozens of homestyle, comforting Italian classics (Sausage Stuffed Peppers, Pomodoro Soup, Chicken Parmesan), carefully crafted and perfected for the modern cook!

My favorite? The Italian Beef Tagliatelle, copied below!
Italian Beef Tagliatelle
Ingredients:
8 ounces tagliatelle or other long ribbon pasta
3 garlic cloves, peeled and minced
3 tablespoons brined capers
1/2 cup mild giardiniera, chopped
1 cup low sodium beef stock
1 teaspoon dried oregano
1 teaspoon red pepper flakes (optional but encouraged)
1/4 cup Caper brine
1/3 cup optional Parmesan Cheese
Preparation:
In a large pot, bring 6 quarts of water to a rolling boil. Season the water with a pinch of salt. Cook the pasta to just short of al dente, reserving a 1/3 cup of pasta water.
As the pasta cooks, heat a tablespoon of olive oil over medium-low heat in a large saucepan (big enough for the pasta to soon enter). Add the garlic and pepper flakes and cook for one minute, stirring as to not burn. Add in beef stock and oregano, bring to a simmer.
When the pasta is just shy of al dente, drain and add to the saucepan along with the pasta water. Simmer for 1-2 minutes, tossing the pasta with the sauce. Turn off the heat, and gently stir in the capers, brine, and a heavy grind of pepper. Serve immediately, garnished with the chopped giardiniera, drizzle of olive oil, and (optional but recommended) Parmesan cheese.
Total Prep Time: 45 minutes
Serves: 6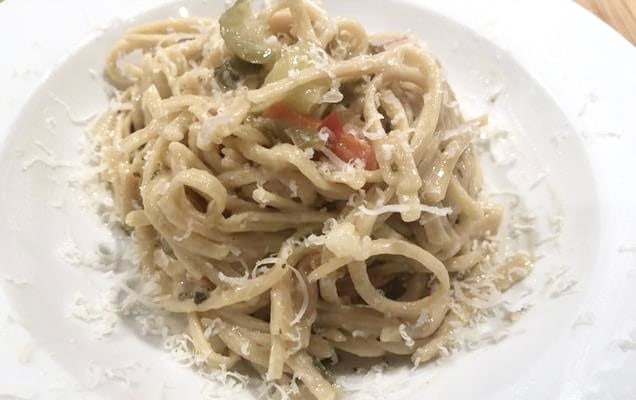 Enjoy my comfort food cookbook!