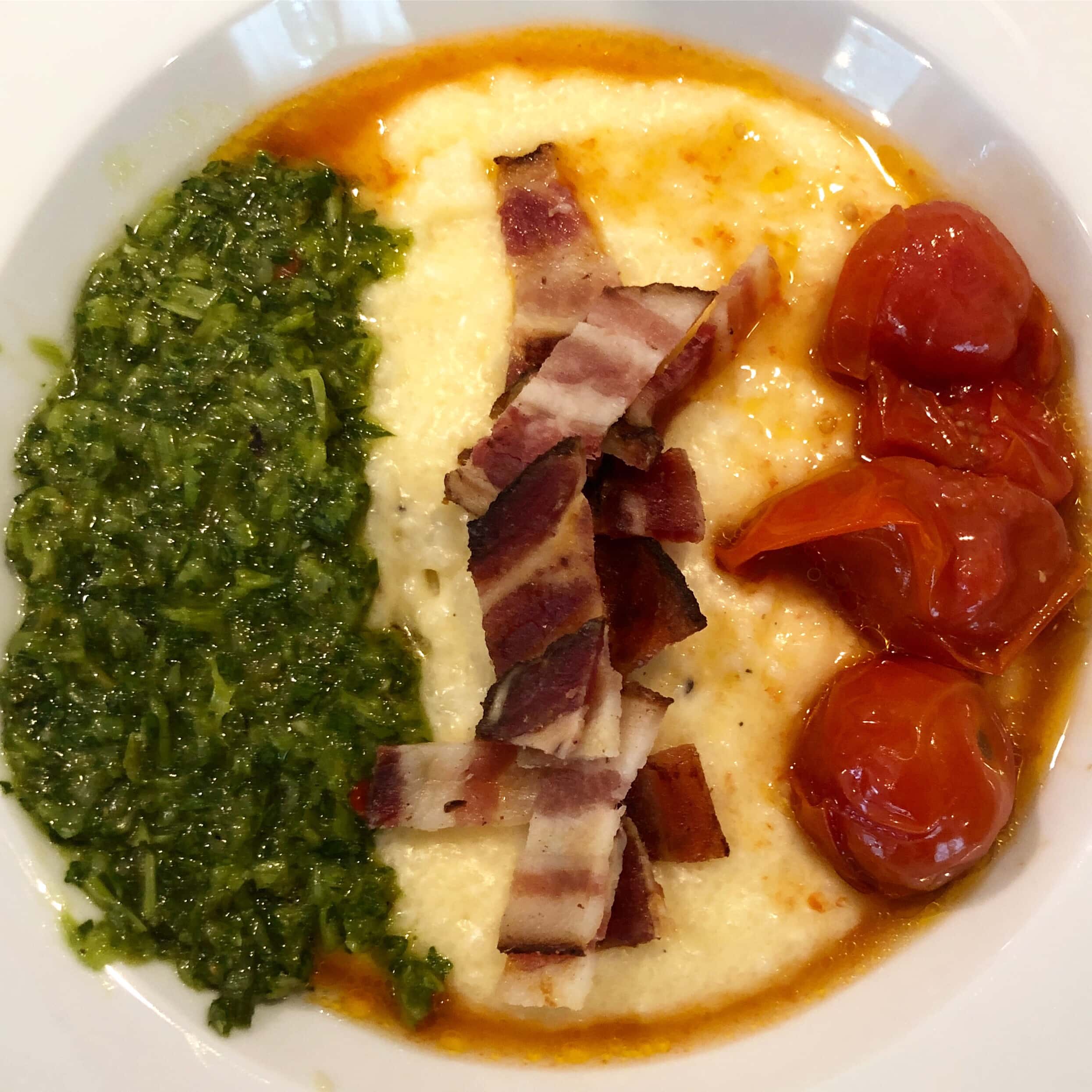 Recipe: Pork Belly Grits with Chimichurri and Blistered Tomatoes
April 12, 2021

Recipe: Adobo Pork Tenderloin
April 16, 2021
For a time in Chicago, I lived above a wonderful pizzeria. They featured a super thin, pub style pizza (the pizza that Chicagoans actually eat); thin, flaky crust, slightly sweet sauce, and a subtle cheese rim. I am proud to say that after years of tinkering, I have perfected the Chicago pub pizza at home, using a little science and a little more beer. A few notes; the recipe calls for enough dough to make 2 pizzas, but you can scale that as you wish. Also, while pepperoni is a must, this pie can handle all the toppings you want to throw at it. Let's make the best thin crust pizza you've ever had; Chicago Pub Style Pizza!
Pub Style Pizza
Cuisine
Chicagoan, Italian
4

cups

AP flour

1

cup

warm water

3/4

cup

beer

(neutral lagers work best)

1

tablespoon

sugar

3/4

teaspoon

salt

2

tablespoons

olive oil

2

envelopes rapid rise yeast

3

cups

crushed tomatoes

1/2

cup

tomato paste

2

teaspoons

Italian seasoning

3

ounces

pepperoni

Non-stick cooking spray

4

cups

mozzarella cheese

1

cup

grated Parmesan
In your stand mixer or large bowl, combine water, sugar, yeast, and one cup of flour. Gently combine and let stand for 3 minutes.

Following the rest period, pour in beer and begin to mix (use the hook attachment on your stand mixer) on low. Gently pour in flour, salt, and oil. Let mix for 5 minutes on medium low speed (scraping the bowl as needed to keep the dough in the bowl). The dough will be very tacky, that's good!

Transfer dough to a large bowl (sprayed with non-stick will help) and let rise on the counter for 4 hours, punching down once.

As dough rises, combine tomato paste, crushed tomatoes, pinch of salt, and Italian seasoning into small saucepot. Bring to just a simmer, whisking in the tomato paste. Set aside for future use.

Once dough is risen, preheat oven to 425 degrees. Divide dough in half and roll out onto 14" pizza pan*, using bench flour as needed to prevent sticking. I recommend using a clean, clear counter with a dusting of flour and a rolling pin to get there. IF the dough really starts to spring back and fight, go grab a glass of wine and come back in 5 minutes.

Top each pizza with sauce (I used just over a cup per pizza), 2 cups of mozzarella, half of the pepperoni, any optional toppings, and finished with a sprinkle of the parmesan. Make sure to sauce to the very edge of the pizza, and add a bit extra cheese on the rim to form a crust.

Bake pizza for 20-22 minutes or until very brown on all sides. Serve as soon as you won't burn the roof of your mouth.
*You may have a bit extra dough, you may not. There are too many factors to tell. If there is a bit extra, stuff some pepperoni inside of it and bake it for 15 minutes for a chef snack calzone. 
Jim Cooks Food Good (JCFG) is a site dedicated to healthy comfort food recipes and family favorite meals. All rights reserved. All information for entertainment purposes only. All likeness to any other recipe is completely accidental, and all requests to modify any recipe should be sent to jim@jimcooksfoodgood.com. No information on this site is intended to cure/treat/diagnose any disease. Healthy Recipes, Healthy Comfort Food, Healthy Comfort Recipes, Comfort food, Healthy recipes