Recipe: Weeknight Pad Thai
May 20, 2021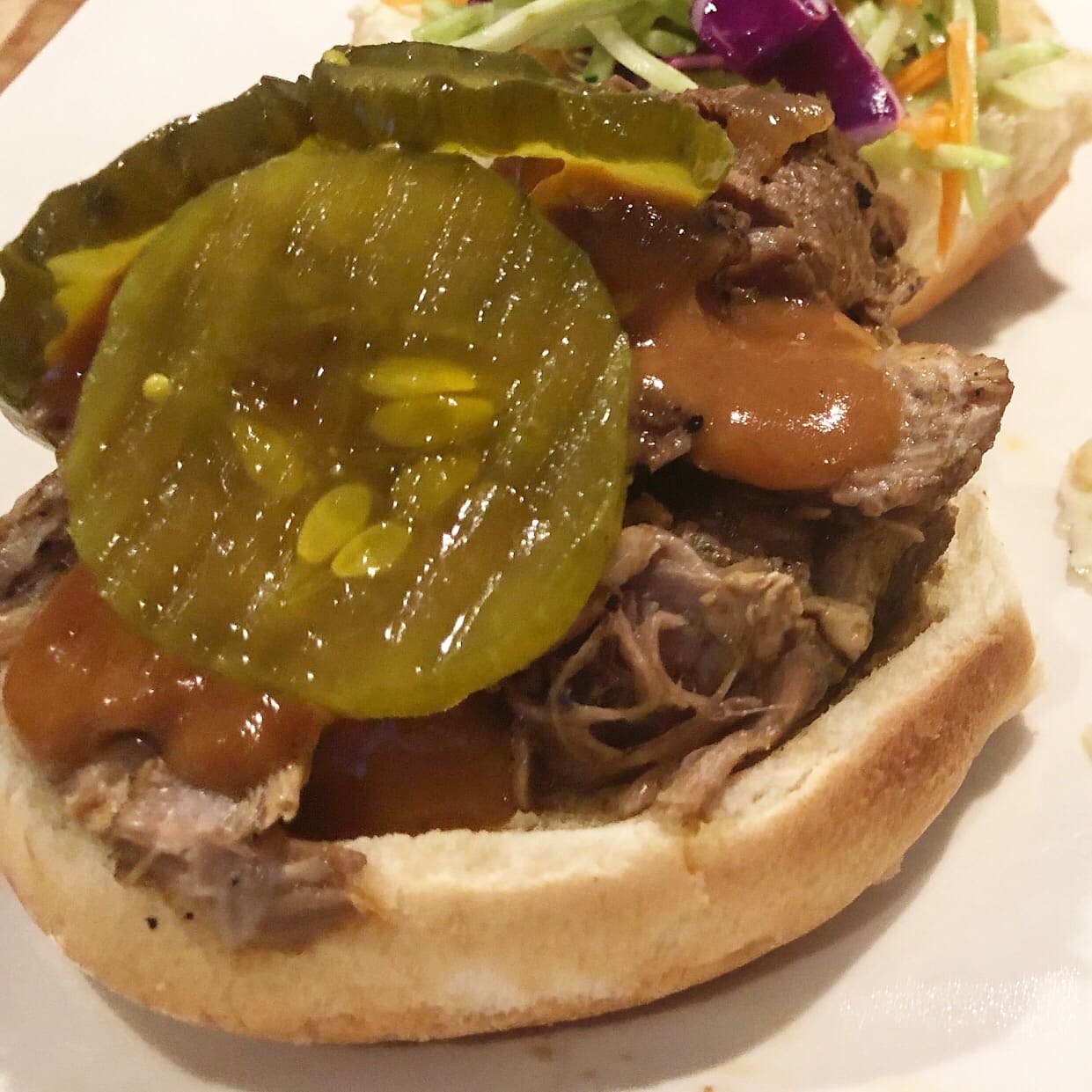 Instant Pot BBQ Pork
May 25, 2021
If you haven't noticed, I try to find ways to lighten up typically heavy (yet comforting) dishes, without doing something weird or making an obscure swap (cauliflower does NOT belong in a cookie). Sometimes, the results are good. Like, really good, because this Popcorn shrimp recipe rocks. I bet 99% of us would eat a pound without blinking right now. Crunchy. Salty. Shrimp-y. And, deep fried. So how can you achieve those flavors? You make my super simple air fryer popcorn shrimp below, with all of the flavor and texture, no added oil, and 80%!! fewer calories. Pair this with a killer chimichurri and you just won, well, life. Air Fried Popcorn Shrimp!
Air Fryer Popcorn Shrimp
2

pounds

raw shrimp

21-30 ct*

8

oz

panko bread crumbs**

4

eggs

2

cups

flour

2

tablespoons

garlic powder

2

tablespoons

onion powder

2

tablespoons

paprika

1

tablespoon

salt

1

tablespoons

black pepper

Cooking spray
Peel and devein your shrimp if required. Roll in paper towels to ensure as dry as possible.

Preheat oven to 400 deg F.

Place flour, garlic powder, onion powder, paprika, salt, and pepper into wide bowl, pie pan, etc. Mix to combine.

Crack eggs and ½ cup water into wide bowl, pie pan, etc. Mix to combine.

Pour panko onto plate. Mix to combine?

Line two cookie sheets with aluminum foil. Spray with cooking spray.

Batter the shrimp: place dry shrimp into flour, shake off excess, then into egg wash, shake off excess, then into panko, gently pressing crumbs into the shrimp. Lay breaded shrimp onto sheet tray, being sure not to crowd. Let shrimp rest on tray for 10 minutes to ensure the panko has set. ***

Spray shrimp gently with cooking spray, then bake in over for ~20 minutes, flipping halfway. Remove and serve immediately (say with a chimichurri sauce to dip in).
No video available for this recipe.
*Be careful of some raw frozen shrimp. Some brands are brined in a salt water solution to enhance flavor and shelf life. They are usually overly watery and salt bombs. The meat counter may not be better, as often they simply just defrost frozen shrimp.
** Don't do wheat? Crushed corn flakes work wonderfully here.
*** This resting period is important. The egg wash will start to dry out and get soaked into the panko, allowing the heat of the oven to better reach the egg wash, browning the shrimp. Most recipes skip this step, which is why they call for oil drizzles or additional egg washes
Serving:
6
People
|
Calories:
458
kcal
Jim Cooks Food Good (JCFG) is a site dedicated to healthy comfort food recipes and family favorite meals. All rights reserved. All information for entertainment purposes only. All likeness to any other recipe is completely accidental, and all requests to modify any recipe should be sent to jim@jimcooksfoodgood.com. No information on this site is intended to cure/treat/diagnose any disease. Any posted calorie count is an auto generated estimate and will vary for your food.