I love food, specifically, what I like to call "healthy comfort food". If you've known or followed me for any amount of time, this is a massive understatement. To me, food is a love language, and one of the only things in existence that can supply physical, emotional, and sometimes even spiritual needs. If you have the same thought then some healthy comfort food recipes are all you need.
The best things we eat contain a little love, and a little balance.
Love can come by cooking and eating your favorite comfort food, something that reminds us of the days when we could eat an entire pizza, then go play outside for three hours. Love can also come from cooking for/with, say, your new family.
The healthy comfort food recipes you are about to salivate are created with love and balance in mind. They are intended to be comforting, yet mindful of dietary and caloric preferences. The recipes are meant to be cooked with minimal fuss, yet are full of opportunities to try something new. These elements are the heart of what truly encompasses Healthy Comfort Food.
1. Al Pastor Tacos
Al Pastor is known as the famous traditional Mexican dish prepared with seasoned and marinated pork. Although al pastor tacos are Mexican meat, the style of cooking originated from the Lebanese. It is a pure healthy comfort food recipe made for healthy food lovers.
2. Chicago Chopped Salad
We have given the third spot to the Chicago Chopped Salad in our healthy comfort food recipes list. I have a confession; Mrs. Cooksfoodgood and I don't always cook at home; sometimes we order in (especially when our daughter came). We became hooked on a Chicagoland favorite, the Healthy Chopped Salad.
While every pizzeria and sandwich shop has its own version, three things are non-negotiable; chopped greens, cured meat, and ditalini pasta (Italian for small thimbles).
Since we moved to Michigan, we have had a massive salad bowl-shaped void in our lives.. until now. Make this Chopped Salad a main with grilled chicken or shrimp.
View Chicago Chopped Salad Recipe
3. Italian Wedding Soup with Italian Sausage
This Italian Wedding Soup recipe is a play on an Italian favorite, and you don't have to be either Italian or at a wedding to enjoy eating this comfort food that is healthy Subbing out the traditional meatballs with Italian sausage adds a nice depth of flavor that helps marry the greens and Parmesan notes of the soup.
This soup is relatively simple to make, but as is with most things Italian, quality is going to matter here. Any way you look at it, this Italian Wedding Soup with Italian Sausage is sure to be a winner!
View Italian Wedding Soup with Italian Sausage Recipe
"Quick & Easy Healthier Comfort Food Recipes Are Beneficial for Health"
4. Healthy Chicken Piccata
I adore this dish; its fried chicken meets old-school Italian meets lemony goodness. All in under 30 minutes, this dish will taste like the traditional fried in butter dish you love, but lightened for, uh. everyday life. Let's make this healthy, lemony, classic Chicken Piccata recipe!
View Healthy Chicken Piccata Recipe
5. Grilled Pasta Primavera
Pasta Primavera, or "Springtime Pasta" in Italian, is a classic. My take throws some of those veggies on the grill, contrasting the grassy flavors with the roasted grilled flavors. An upgrade from pasta salad, this recipe is easy, versatile, and in 30 minutes, your new weeknight pasta. Let's make Grilled Pasta Primavera!
View Grilled Pasta Primavera Recipe
6. Butternut Squash Mac and Cheese
For the past decade, tragically, I have been quite adverse to dairy. For a good Italian boy, this was especially hard, however, as they say, necessity and lactose intolerance is the mother of invention.
This dish foregoes some of the nutritional yeasts and other non-dairy funky ingredients for a bit of technique and imagination and lowers the amount of dairy/cheese by a fair amount. Is this the best "mac and cheese" you've ever had? Maybe.
Is it the best squash fall pasta you could ever dream of? Certainly. Let's make some Butternut Squash Mac and Cheese.
View Butternut Squash Mac and Cheese Recipe
7. Comforting Creamy Chicken Noodle Soup
In our list of Healthy Comfort Food Recipes, this Comforting Creamy Chicken Noodle Soup is perfect for a healthy dinner that you can make for your family anytime or on any occasion. It has all the ingredients to make you stay heart.
View Comforting Creamy Chicken Noodle Soup Recipe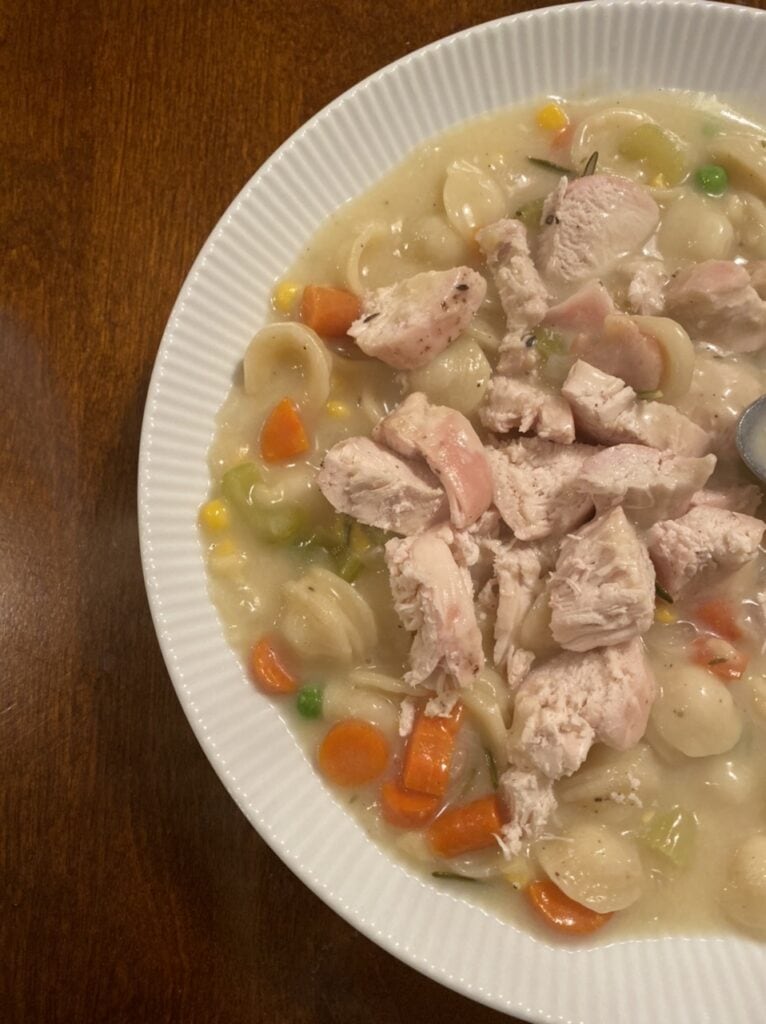 8. Couscous Salad
Couscous Salad is a perfect side to any grilled food or a main with the addition of shrimp. Treatment of the couscous is a little unusual; using the Israeli couscous and encouraging sticking makes for an interesting texture contrast for the salad.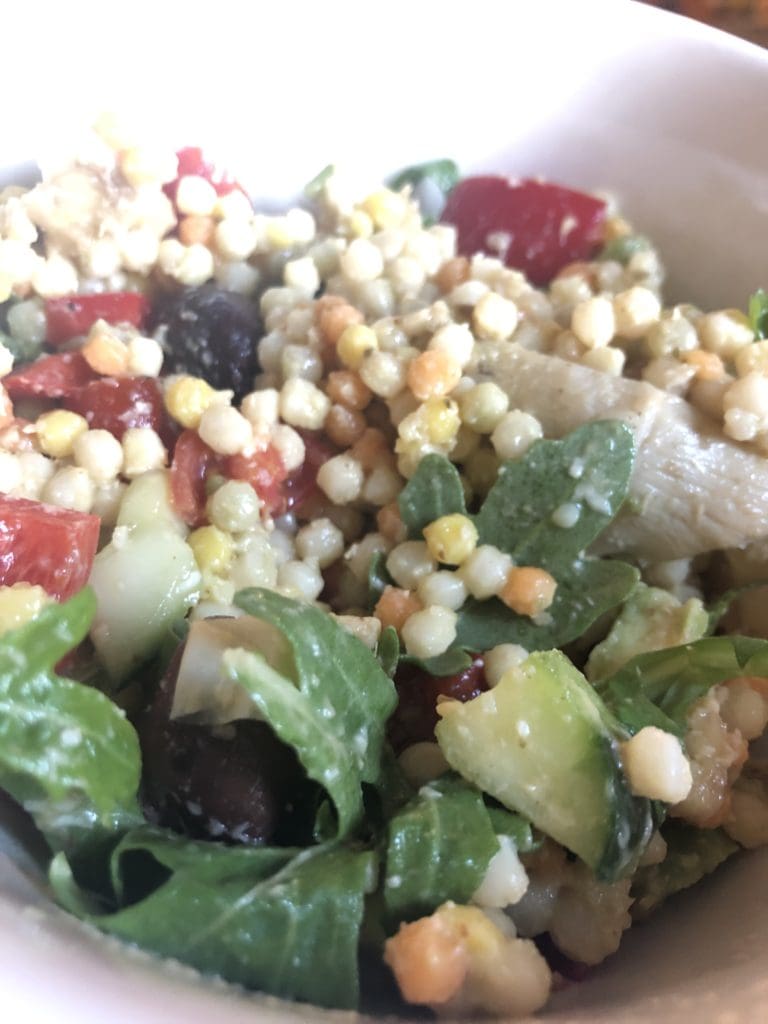 9. Maple, Pecan, and Strawberry Salad
Maple, Pecan, and Strawberry are a real combination of healthy veggies with a comfortable taste that you can prepare and eat anytime.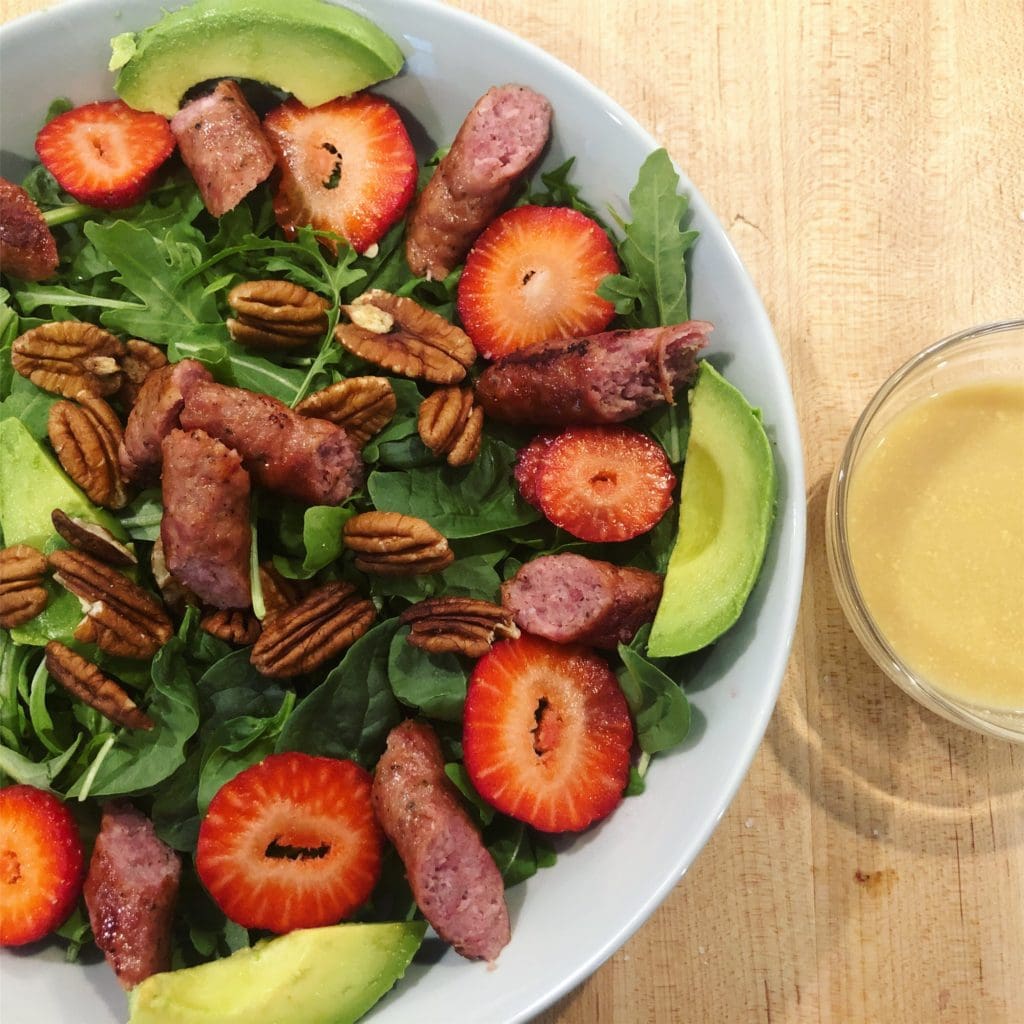 View Maple, Pecan, and Strawberry Salad Recipe
10. Broccoli, Cheddar & Quinoa Gratin
I have prepared this recipe several times. I think I love it more each time. It's become a regular dinner at my house, so thanks so much for sharing!" I'm looking forward to trying more of your recipes. – Harry
View Broccoli, Cheddar & Quinoa Gratin Recipe
List of Weeknight Healthy Comfort Food Recipes
We all love to eat quick and easy healthy comfort food breakfast and meal recipes. But what about the Weeknight Dinner Healthy Comfort Food Recipes? Below we have shared all the delicious and healthy ingredients loaded with Weeknight Recipes that you can prepare for your family dinner or can serve in any event at home.
11. Sweet Potato Shepherd's Pie
Hearty, healthy comfort food vegetarian recipe. Shepherd's Pie with Sweet Potato Topping is a family-pleasing, make-ahead, meal prep friendly, and incredibly tasty weeknight dinner. It's complete with ground beef (or lamb), sneaky veggies, dried herbs, a touch of chili powder, and topped with a smooth layer of creamy, mashed sweet potatoes.
View Sweet Potato Shepherd`s Pie Recipe
12. Butternut Squash Soup
This Butternut Squash Soup recipe takes some time-saving moves to make it a weeknight healthy dinner. Pair it with some chicken apple sausage to turn this dish to 11. You'll also note that this version does not have milk or cream (aka vegan); the corn starch and the maple syrup give it the right consistency without any additional dairy. Pro tip: chill it and serve it the next day for a summer soup that you won't forget. Let's make Butternut Squash Soup!
View Butternut Squash Soup Recipe
13. Healthy Restaurant Style Beef with Broccoli
Dare I say this Healthy Restaurant Style Beef with Broccoli recipe is perfect? Taking the secrets from your local takeout place (read, baking soda + cornstarch), but without the wok full of oil, is some of my finest work yet. The result is a tender, flavorful dish (thanks to the baking soda) that is done in under 30 minutes, so you can make a full batch for leftovers. Restaurant Style Beef with Broccoli is your favorite comfort food for your family.
View Healthy Restaurant Style Beef with Broccoli Recipe
14. Roasted Salmon with a Lemon and Caper Dill Sauce
I don't think there's a better salmon recipe that is loaded with heavy protein. Healthy, & tasty with saturated fat, plus it makes great leftovers in a salad. I prefer to buy a side of salmon and grill it whole, as it's usually a good bit cheaper and grills (or bakes) nicely, especially if you're a fan of crispy salmon skin.
Air fryer salmon is also a possibility here too! Pair with a simple salad or grilled veggies (Brussels sprouts and broccoli work great with this mustard-forward sauce) and crush your healthy fats weeknight meal.
View Roasted Salmon with A Lemon and Caper Dill Sauce Recipe
15. Chicken Pot Pie
If you're looking for a delicious, healthy comfort food recipe, look no further than chicken pot pie! This classic dish is made with chicken, vegetables, and a flaky pie crust, and it's the perfect meal to cozy up with on a chilly night. Plus, it's easy to make ahead of time and freeze for future dinners.
View Healthy Chicken Pot Pie Recipe
16. Greek Yogurt
Greek Yogurt Chicken Recipe! is known as the best comfort food that is healthy. Made with simple ingredients like chicken breasts, Greek yogurt, and spices, this dish is packed with flavor and perfect for a weeknight meal. Plus, it's super easy to make and can be on the table in just 30 minutes.
View Healthy Greek Yogurt Recipe
If you have loved our Healthy Comfort Foods Recipes, we would love it if you could share them! We will also love to see your creations; send them over to jim@jimcooksfoodgood.com.
You can also post a picture of your healthy recipes on your Instagram and tag us with @jimcooksfoodgood or use the hashtag #icookwhatiwant.